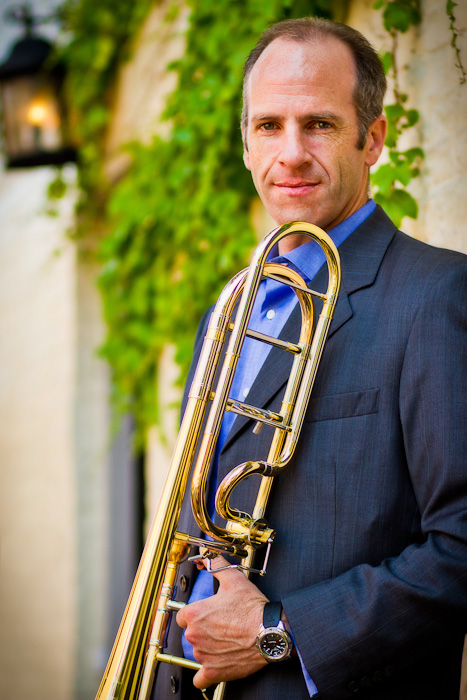 B
orn in Denver, Colorado, Principal Trombonist Craig Mulcahy joined the National Symphony Orchestra in 2006. Prior to this appointment, he held the positions of Principal Trombone of the Kennedy Center Opera House Orchestra for seven years, Second Trombone with the Buffalo Philharmonic Orchestra, and Principal Trombone of the Tulsa Philharmonic. He has also performed with the San Francisco Symphony, Los Angeles Philharmonic, and Colorado Symphony. A graduate of the Juilliard School and University of Northern Colorado, Mr. Mulcahy became the first winner of the prestigious Zellmer-Minnesota Orchestra Trombone Competition.
As an active clinician and soloist, he has performed solos, recitals, and given masterclasses throughout the U.S. and abroad, most recently at the Chinese International Trombone Workshop in Beijing, where he was the featured artist. Mr. Mulcahy can be heard on several recordings including the recent CD released by the NSO commemorating the 50th anniversary of President John F. Kennedy's inauguration and was recorded live in the Kennedy Center Concert Hall in January, 2011. Mr. Mulcahy currently serves on the faculty of the University of Maryland, George Mason University, and Catholic University of America. During his free time, he can be found with his wife, Kathy, and daughter, Fiona.
E
ver since I began to play the trombone in 4th grade, it felt like something I should do forever. But since most 4th graders don't think about careers, it took a number of years before the bigger picture started to become clear. Over time, that clarity provided the necessary skills to begin winning auditions, building experience, and arrive at a full time position with one of the best orchestras in the country.
One of the most important steps in this path was beginning private lessons, and at nine years old I began studying with Larry West. He was influential in my early development and was extremely encouraging. After several years, Larry suggested I begin studying with John Daley, the Principal Trombone the Denver Symphony (now known as the Colorado Symphony).
John was inspirational because his sound was consistently beautiful and having a frame of reference like that week in and week out every time he picked up the trombone to demonstrate helped build the necessary groundwork for getting accepted into a good trombone studio. Memories of those lessons are inspirational to this day.
I earned a Bachelor of Music Performance from the University of Northern Colorado studying with the amazing Buddy Baker, who helped build a solid skill set for technical fundamentals and musicality. That work paid off by earning my first professional position, a one year appointment as Principal Trombone of the Tulsa Philharmonic.
Tulsa was an excellent experience; performing a great deal of repertoire, meeting new people, and being surrounded by other professionals were all part of fulfilling my dream of playing trombone in a professional orchestra
At the conclusion of that year, I was accepted to the Juilliard School to begin work on my Master's Degree. My time in New York studying with Joseph Alessi was intense and motivating and was largely responsible for catapulting my career in its current direction. During my time at Juilliard, I took an audition with the Buffalo Philharmonic for second trombone and after winning the audition, transferred from a master's degree in performance to an advanced certificate so that I could accept the position while simultaneously finishing the program that same year.
The position in Buffalo was well timed as it provided time to remain highly focused on improving my technical skill set and musicianship. I continued taking auditions at orchestras with longer seasons and larger budgets and won the Principal Trombone position in the Kennedy Center Opera House Orchestra. That period of professional development and audition experience provided a wealth of insight on refining my personal style.
My time with the Kennedy Center Opera House Orchestra was fun and exciting while the opportunity to perform opera repertoire that would have otherwise been unavailable was crucial in refining my musicality. Performing Otello, Parsifal, Die Walkure, Das Rheingold, and a tour to Japan with artists the caliber of Placido Domingo were just a handful of highlights during my tenure with the ensemble.
In 2005, I won the second trombone audition with the National Symphony Orchestra. It was a thrilling waypoint in my career as it meant I would be working alongside two legends in the trombone field: Milt Stevens and Matthew Guilford.
Unfortunately, my time playing with Milt was cut short when he passed away from a heart attack on July 30th, 2007. And even though our time together was comparatively brief, we developed a strong bond and to this day I still have the urge to call him for professional insight. It always seemed like he had answers for any of my questions.
Following Milt's passing, I took on the roll of Acting Principal for two years and in 2010, after three auditions that failed to produce a winning candidate, won the audition.
Since then, each day has been an honor to live my dream of working with one of the best low brass sections in the country as well as an extraordinary group of colleagues throughout the entire ensemble.
Aside from my orchestra position, it has been a privilege to become an Adjunct Professor of Trombone at the University of Maryland where I have been able to share my knowledge and experience with new generations of trombonists as well as travel the globe as an Edwards Artist performing solos and recitals alongside masterclasses and demonstrations.
Sharing my good fortune and the joy of classical music with aspiring professionals, colleagues, and patrons is a genuine honor that I treasure as much as my family.
~Craig Mulcahy